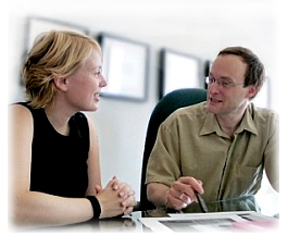 At BizPros LLC we believe that Consultants should put their money where their mouth is.  There are a lot of consultants out there that profess to be able to generate huge profitability improvements for your business – but try getting one of them to guarantee results.
At BizPros LLC we guarantee results by charging based on the results we generate.  If we don't generate results, you don't pay.  It's that simple.  When we do deliver results, you pay us 50% of the results generated.  It's a no risk situation.  You simply cannot lose.  It forces us to carefully evaluate whether we can really make your more money or not.  If we don't think we can, we won't waste your time or ours.
We specialize in the areas of efficiency gains, shrink reduction, lean manufacturing, administration cost reduction, and sales growth.
Contact us today to schedule a meeting to discuss how we can help improve the profitability of your business.

| | | |
| --- | --- | --- |
| | "I recently started a new business.  I knew about BizPros and their Contingency Consulting services and knew that I had to engage their services to help me grow my new venture.  I had nothing to lose, only much to gain.   I had a contingency consulting engagement signed before I even open the doors.  They haven't delivered any new business to me yet, but they are working on it and I haven't paid them a dime so the way I figure it I am still ahead of the game." | |